2004/3/10
Commission D (Electronics and Photonics)
Activity Report (November 2003`February 2004)
(1) Brief Report on Technical Trends in Electronics and Photonics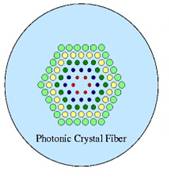 Cross sectional view of photonic crystal fiber (by courtesy of Prof. Koshiba, Hokkaido University).
Recently, photonic crystal fiber is one of the most noteworthy components in the field of photonics. This is because the new kind of optical fiber is entirely different in its wave-guiding nature from conventional ones. In some cases lightwave goes through the air within fibers and in other cases optical beams are tightly confined into core regions of a few micrometers diameter or less, which are almost ten times smaller in size than usual. Especially, the latter is attractive for application of its highly enhanced nonlinearity to optical parametric devices. For example, the famous optical clock technique of extremely high accuracy is based on the super-continuum generation phenomena in a photonic crystal fiber, where the self-phase modulation effect gives rise to the synthesis of octave-class broadband spectrum. Prof. Koshiba of Hokkaido University found out through his intensive simulation works that the transmission properties of such photonic crystal fibers can be expressed by a rather simple analytical model. Expected is that his model would be a powerful tool to deal with this kind of optical fibers for their practical applications.
(2) The following meetings were sponsored by Commission D
1. URSI-Commission D of Japan Workshop was held in Koganei on December 2nd, 2003. The main theme was on fiber optic nonlinearity. The number of attendees is around 30.
(3) The following international and domestic meetings were co-sponsored by or strongly related to Commission D.
1. .The 3rd Technical Meeting of Ultrafast Optoelectronics was held in Koganei on November 26, 2003.
2. The 7th International Symposium on Contemporary Photonics Technology (CPT 2004) was held from January 14th to16th 2004 in Tokyo, Japan. More than 150 people attended the meeting.
3. The 5th Japan-Korea Joint Workshop on Microwave Photonics was held in Shiga, Japan from January 29th to 30th, 2004. Roughly speaking, 70 people were there.
4. The 6th Topical Symposium on Millimeter Waves (TSMMW 2004) was held from February 26th to 27th in Yokosuka, Japan. About 130 people attended the meeting.
(4) The following international and domestic meetings are in preparation, which are co-sponsored by or strongly related to Commission D.
1. Special symposium on gPresent status and future prospects of optical sources for millimeter-wave signal generation" will be held in the coming 2004 IEICE General Conference in Tokyo, March 25, 2004.
2. The Optoelectronics and Communications Conference (OECC) and Conference on Optical Internet (COIN) will be held together in Yokohama, Japan, July 12th – 16th, 2004.
3. The Lightwave and Electromagnetic Wave Workshop will be held in Sapporo from July 21st to 23rd, 2004.
4. The 10th International Symposium on Microwave and Optical Technology (ISMOT-2005) will he held in Fukuoka, Japan, August 22nd – 25th, 2005.
(5) Besides the meetings above, tremendous numbers of meetings, workshops, symposiums, and conferences were and will be held around the world concerning the many fields in Electronics and Photonics. See for example the following web pages:
http:// www.ieice.org/es/
http://www.jsap.or.jp/
http://annex.jsap.or.jp/OSJ/
http://www.ieee.org/portal/index.jsp
http://www.ieee.org/organizations/society/eds/
http://www.ieee.org/organizations/society/leos/
http://www.ieee.org/organizations/society/mtts/
http://www.osa.org/
http://www.ieice.org/~emd/jpn/welcome.html
http://www.ieice.or.jp/es/mr/jpn/index.html
http://www.ieice.or.jp/es/sce/jpn/index.html
http://www.ieice.or.jp/es/eid/jpn/welcome.html
http://www.ieice.org/~ed/jpn/welcome.html
http://www.ieice.org/~cpm/jpn/welcome.html
http://www.ieice.org/~emt/jpn/
http://www.ieice.org/~sdm/jpn/index.html
http://www.ieice.or.jp/es/mw/jpn/welcome.html
http://icd.ac.isp.ne.jp/ja/index.html
http://www.ieice.or.jp/es/ome/jpn/welcome.html
http://www.ieice.or.jp/es/ope/jpn/welcome.html
http://www.ieice.org/~lqe/jpn/welcome.html
http://www.ieice.org/~femto/jpn/
http://www.ieice.org/~mwp/jpn/welcome.html
http://www.ieice.or.jp/es/cjmw/index.html
http://www.ieice.org/~ipd/jpn/welcome.html
http://www.ieice.org/~oip/jpn/welcome.html
http://www.ieice.or.jp/es/ms/jpn/welcome.html
http://staff.aist.go.jp/s-kawabata/qit/